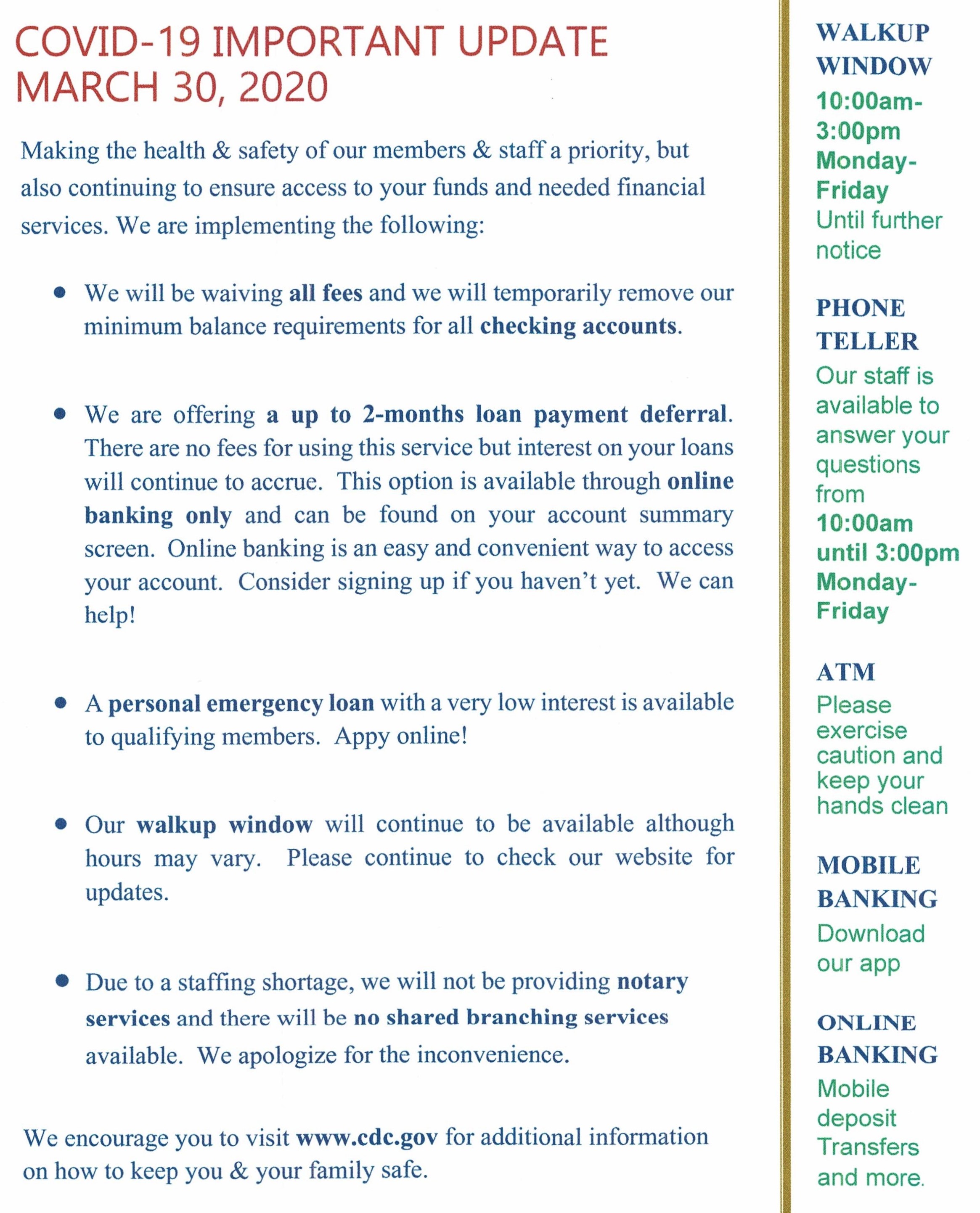 Mobile Banking is
One of the benefits of our recent core conversion
to offer you more ways to access your account with SLOCU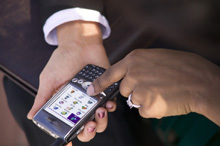 Now you can do anything on your phone that
you can do online and then some!
Pay Bills? Yes
Deposit A Check? Yes
Transfer Funds? Yes
Freeze & Unfreeze Your Debit Card? Yes
Apply For A Loan? Yes
Find The Closest ATM? Yes
View Your e-statement? Yes
There are also multiple ways to set up easy sign-ins:
1. Pin Based
2. Voice Recognition
3. Fingerprint
4. Face Recognition
Below are the links to both Apple & Google
for your iPhone & Android!
https://apps.apple.com/us/app/slo-credit-union/id1498056966?ls=1
https://play.google.com/store/apps/details?id=com.slocu.slocu
If you've already signed up for home banking you use the same
sign-in information. If you haven't yet then go to www.slocu.com and
click on the online banking button to get started.
Call us if you have any questions! 805-543-5839
Thank you for using SLOCU!
March Madness may have been cancelled
but our loan special is still on!
Let March Madness begin!
Apply Online Today!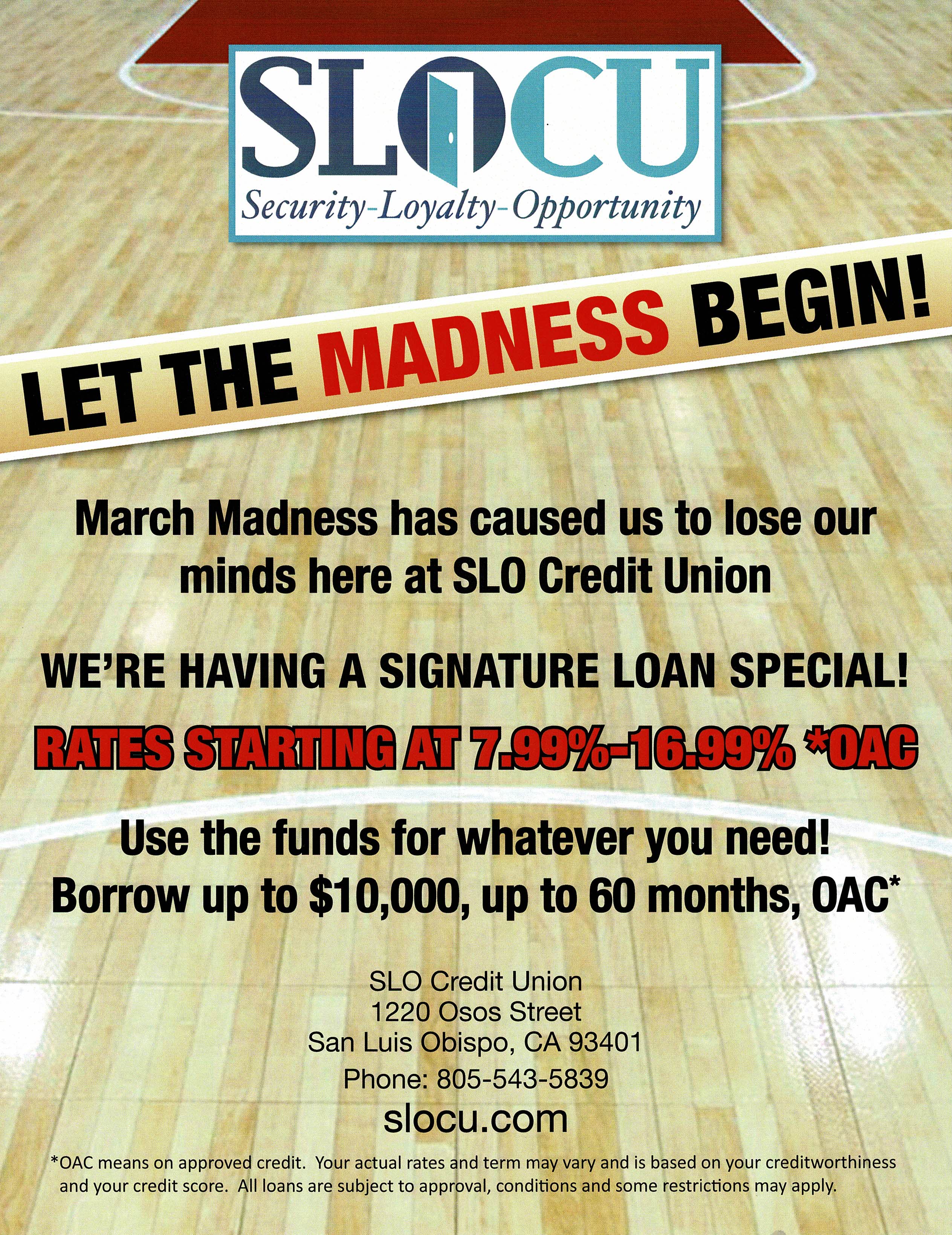 When re-enrolling in Home Banking for the first time!
Go to www.slocu.com
Click on: Online Banking
User Name: Full Member Number
Password: Last 4 digits of your SS#
Then the system will prompt you to change your
user name & password & set up 3 Multi-Factor
Authentication questions & answers!
That's It!
Happy Home Banking!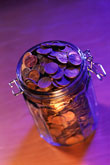 Effective Immediately we will only accept two rolled coin wrappers of each denomination each month. We do not charge a fee but need to limit the amount we accept due to space limitations.
Thank you for your understanding!
SLOCU & A Place to Grow
have partnered to offer financing for
your new She Shed!
Don't know what a She Shed is?
Click on the link below to find out!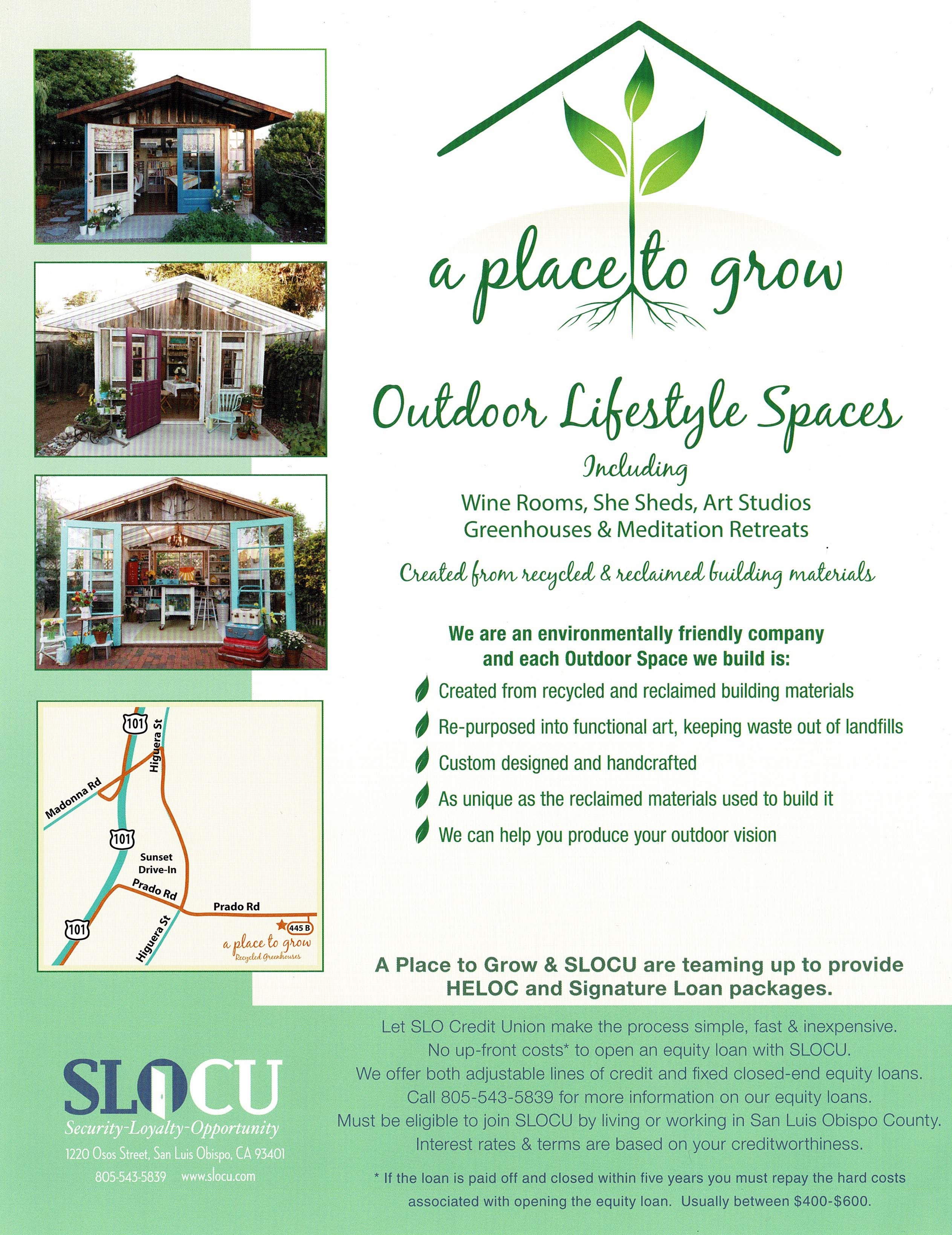 Notaries are available by appointment only during the hours of
9:00 am to 4:00 pm and are for members only.
Appointments are required to ensure staff is available.
Notary staff reserve the right to refuse to notarize a document that is incomplete.
$10.00 per signature for any document
notarized that is not a SLO Credit Union document.
Is SLOCU your credit union?

SLO Credit Union is now part of the CU Service Centers. You can access your account, anywhere you see the CU Service Center swirl. You can also download the app to your phone to find the closest shared branch wherever you are.

Click or call 888.CU.SWIRL to find the location nearest you!